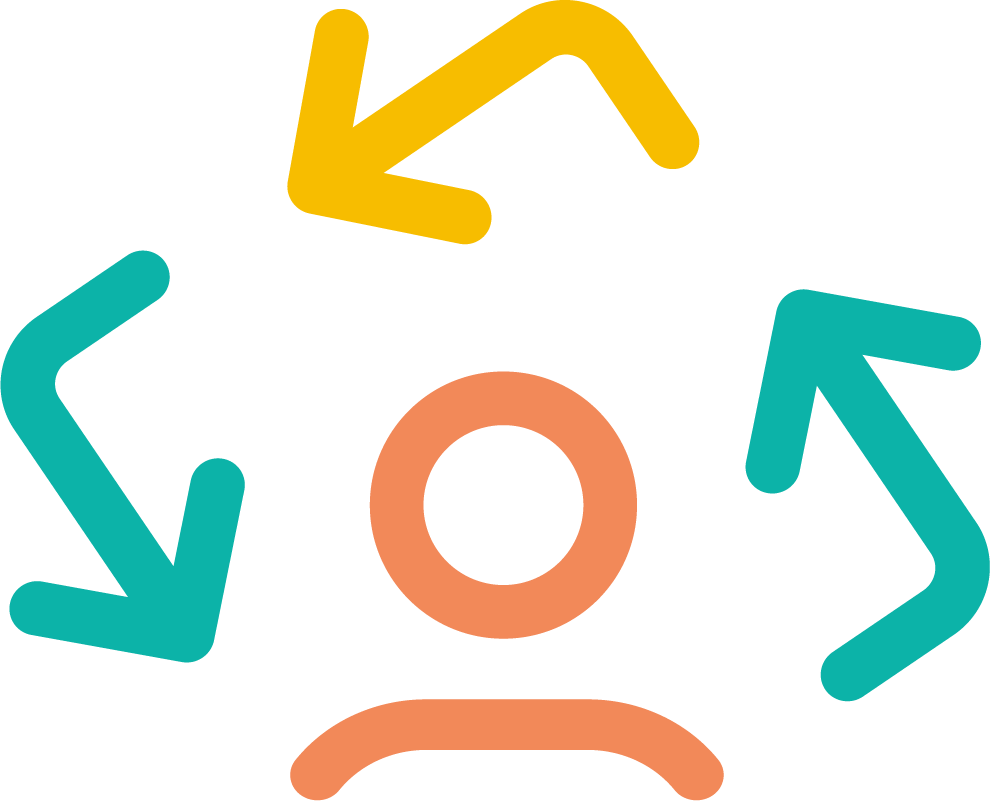 Know yourself. Understand others around you.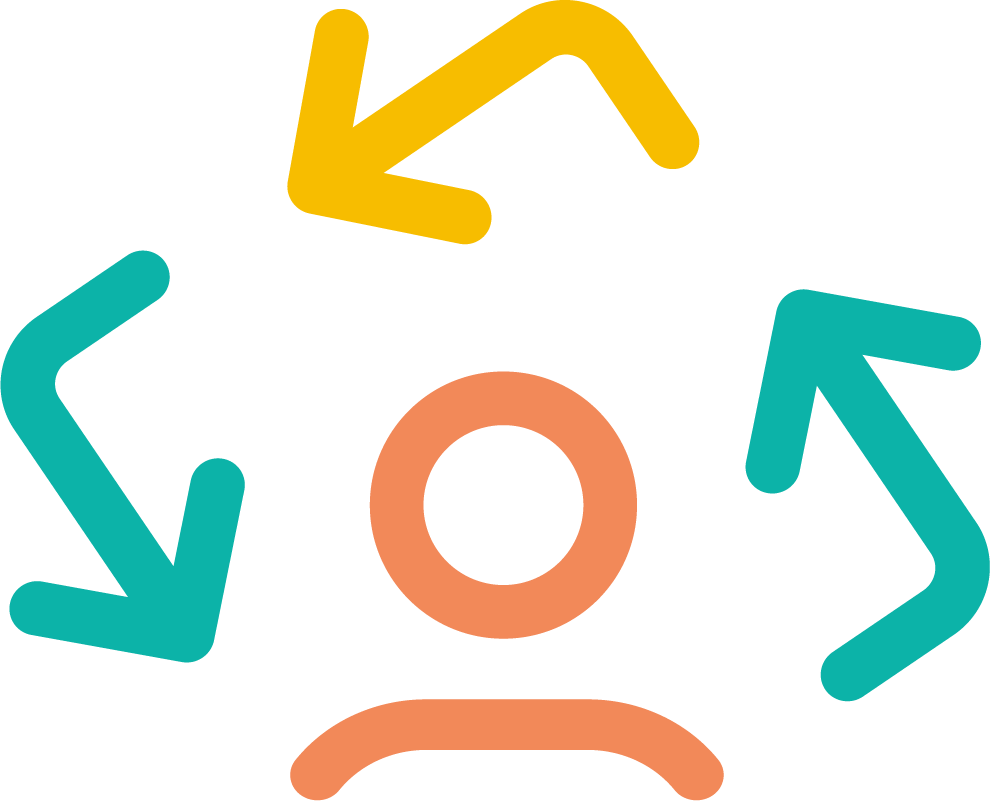 Powerful tools that reveal potential and pave the way for personal and professional growth.
Behavioural assessments are the starting point to getting the best out of yourself, your relationships and your life experiences.
When you understand how people are wired, you can figure out the what and why behind their behaviours and their preferences. This enhances your engagement with your environment and helps guide the way towards personal and professional success.
We use

TTI Success Insights

to provide tested, validated, research-based assessment and coaching tools.
TTI-SI has been involved in the research and development of personal assessment tools since 1984. They've virtually perfected the art of empowering people-first organizations. Their award-winning assessments create cohesion in the workplace, make performance management, employee evaluation and employee development easier.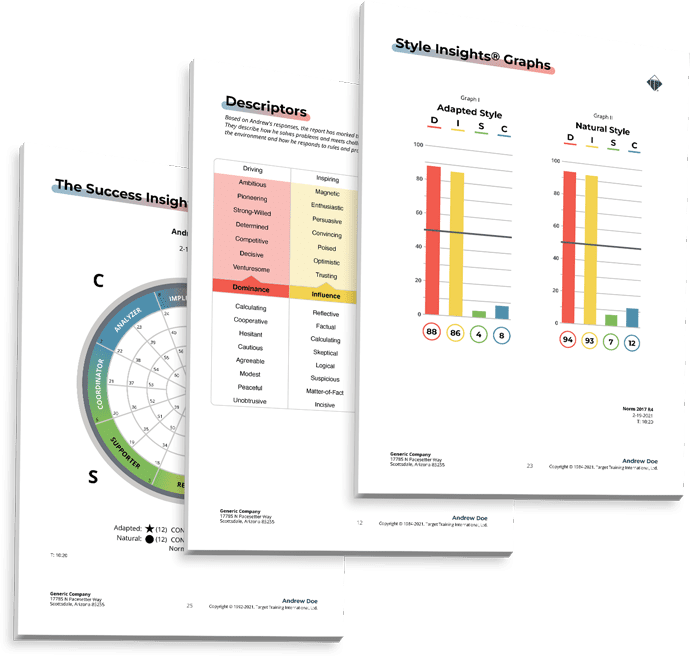 TTI Success Insights® DISC
DISC is a widely used behavioral assessment tool, measuring four behavioral styles: Dominance, Influence, Steadiness and Compliance. DISC measures how a person behaves. The most comprehensive DISC assessment in the market today, revealing insights into how members of staff, management and leadership are likely to respond in certain situations. DISC provides the ability to measure behaviors of the individual or the entire team.Commonly used to: improve teamwork and understand communication styles.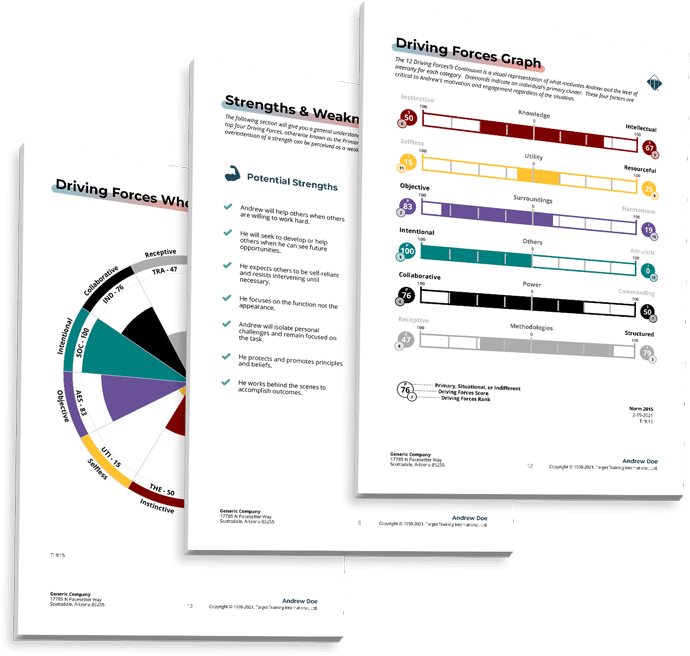 12 Driving Forces® (Motivators) DISC
The driver behind the behavior, 12 Driving Forces unlocks the why behind an individual's actions. Rooted in Eduard Spranger's esteemed research, 12 Driving Forces reveals how each person is uniquely motivated at work and in life. Understand what motivates an individual or team members to take specific action. Commonly used to: improve employee engagement, and determine job and culture fit.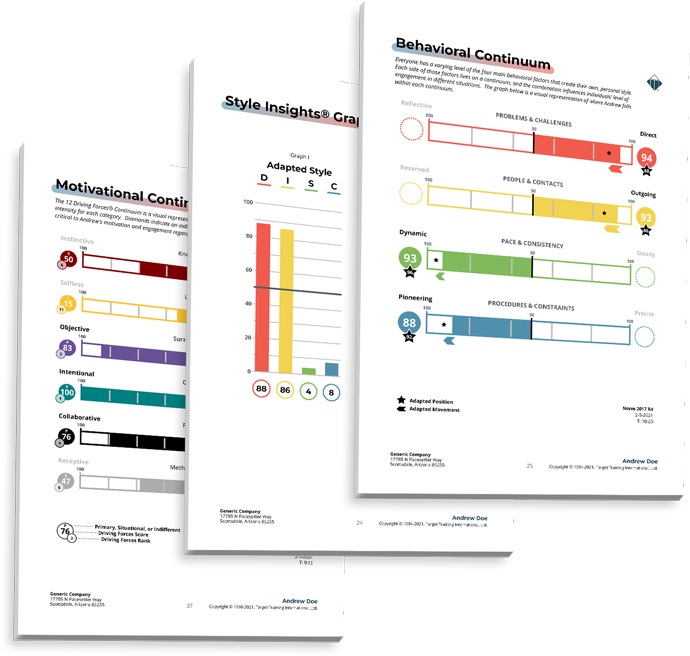 Combining both behaviors (DISC) and 12 Driving Forces (motivators) into one integrated report, Talent Insights explains the how and why behind a person's actions. Understand behaviors individuals bring to a team while uncovering motivators behind those behaviors. Get to know individual employees or capture a snapshot of the entire team with this innovative report. Commonly used to: engage employees, coach leaders, build better communication and to select the right team members for the right positions.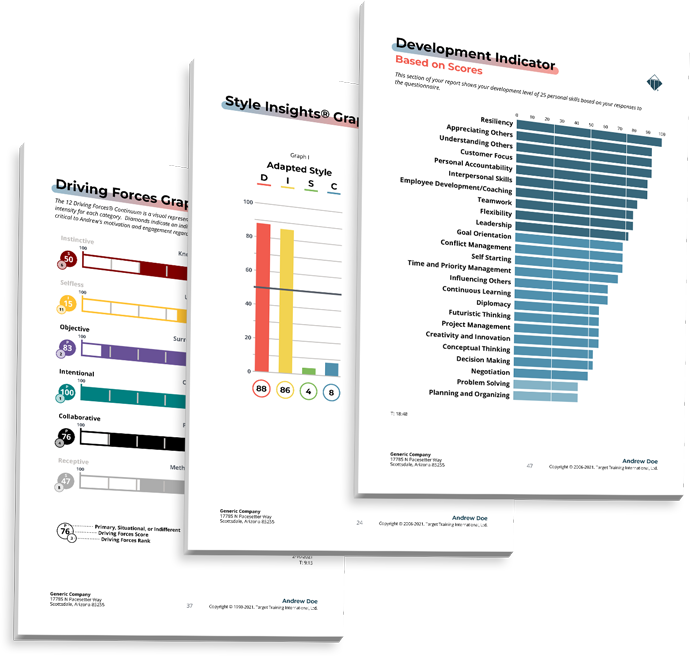 TriMetrix DNA describes how people behave, why they behave that way, and what the process is behind their decision-making. It also reveals soft skills they've mastered. TTI TriMetrix DNA examines the behaviors individuals bring to the job, the motivators/driving forces that drive them and the ability to demonstrate the competencies required by the job.Commonly used to: Develop talent effectively for leadership and for high potential team members, also for job fit evaluation.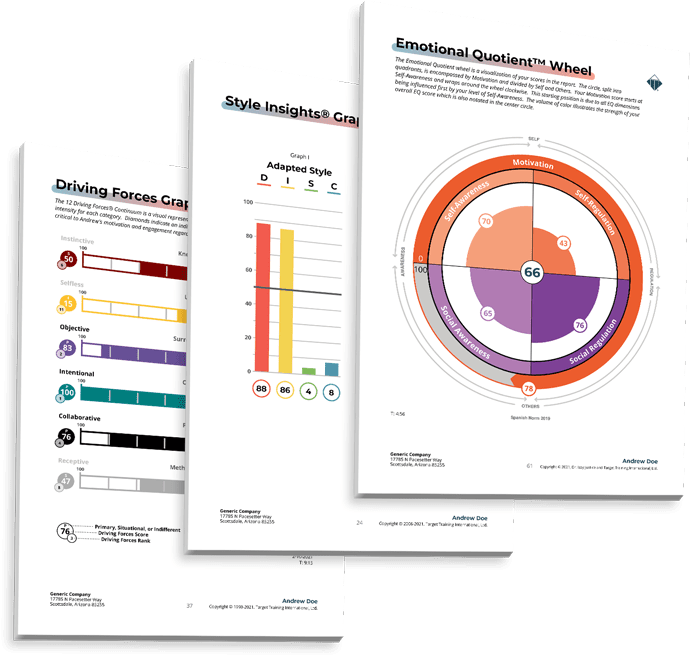 TTI TriMetrix® EQ examines the behaviors individuals bring to the job, the driving forces that drive them, and an understanding of their own emotional intelligence. TriMetrix EQ blends all three sciences together in an integrated section that will illustrate the impact emotional intelligence has on core behavioral styles, as well as the top driving forces. Commonly used to: Assist in executive coaching, selection and the development of high potential employees.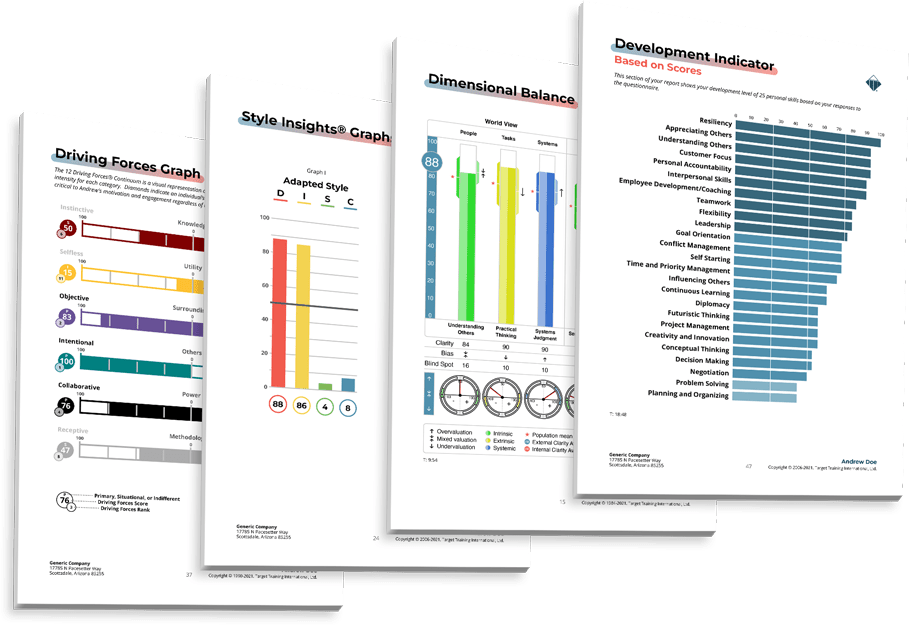 Our EQ assessment accurately measures a person's emotional intelligence, which is the ability to sense, understand and effectively apply the power of overall emotional well-being to facilitate higher levels of collaboration and productivity. Commonly used to: Develop leaders, engage teams, coach and in succession planning.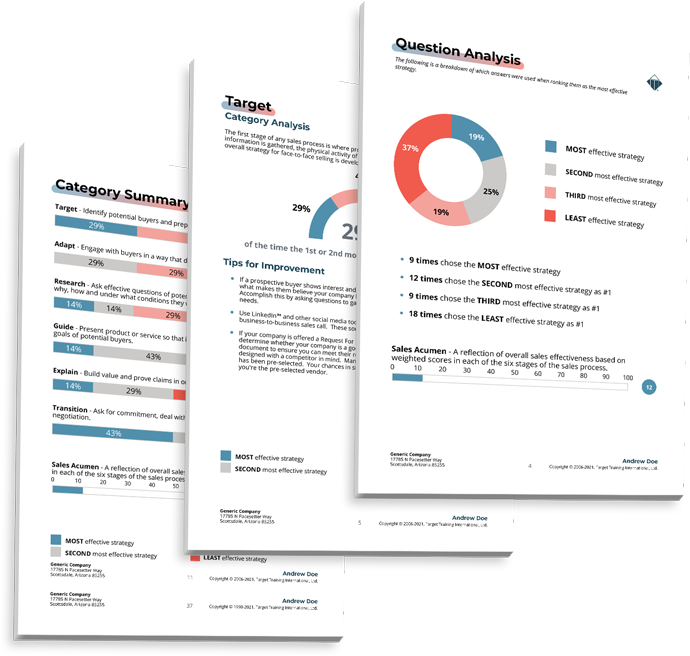 The Target Selling Insights assessment is an objective analysis of an individual's understanding of the strategies required to sell successfully in any sales environment.Commonly used to: Determine if sales staff members understand the sales process, how they compare against top sales performers, and if they have the ability to sell. Used in sales training, team and leadership coaching, and as an all-in-one training guide.
Make the right impact with the right tools.
Create a shared language and understanding across teams
Uncover personal insights and increase engagement
Empower the right people by assessing skills and development
Get clarity on job selection and benchmarking (no more bad hires!)
Professional Coaching & Consulting
Bring in real and applicable insights through assessments
Frequently Asked Questions
What Behavioural Assessments are you using?
We are an affiliate of TTISI, a globally recognized Behavioral assessment organization.
We have high turnover rates. How can behavioural assessment help?
High turnover is becoming second nature in today's business. Using behavioural assessments helps your business take one factor out of this phenomenon and give your leaders and people a better chance to lead proactive, constructive discussions about their needs and aspirations
We use behavioral assessments in hiring. Why would I need them for my current employees?
You can use behavioural assessments to lead the development of leadership styles, unravel communication issues, understand drivers, plan skills development and many other fields that directly affect engagement and efficiency.
I have a small business, do these solutions work for me?
Absolutely! Small businesses can be more sensitive to the engagement of their employees and can benefit the most from hiring and developing the right talents with less guessing and repetition.
Should I hire based on behavioural assessments results?
A candidate's behavioural assessment leads to a more informative interview because you know more about their drivers, style and skills as well as what you can work on together.
Do you help in the selection and interview process?
In addition to training your HR and leaders on reading and using the behavioural assessments, our engagement in your hiring process can include comments on your candidates' profiles and their Gap Report and highlights for the interviewer. Participating in behavioural interviews can be arranged separately as a Support Service
My employees work from home. Are behavioural assessments still valid?
Yes. The personal traits of your people are mostly constant and observable through all types of interactions including their productivity. That said, a Work From Home version of your employee reports can be generated to shed more light on the effects and needs of their behavioural profiles.
Contact Shadi to get started on a behavioural assessment for yourself or your team.